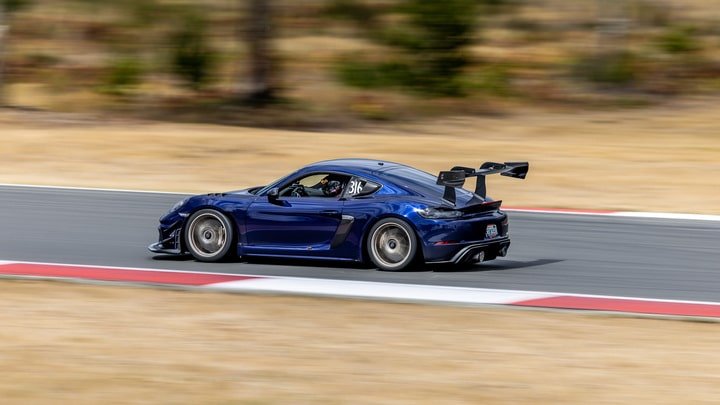 GT4RS Before and After — The Ridge Motorsports Park Test
At Dundon Motorsports our goal is to take the incredible cars Porsche produces, and improve them incrementally in the areas we find opportunity. One of Porsche's most recent offerings is the Porsche GT4RS. The Cayman we have all been waiting for a real 4.0L GT3 engine, close-ratio PDK gearbox and the latest improvements from Weissach. However, with everything Porsche threw at this beast, we still found room for improvement.
As usual, we went through our standard testing and development process. This involves 3D-scanning the entire car (bodywork, chassis, suspension, exhaust, etc) so we can develop parts efficiently using CAD-based software platforms. Our engineers got straight to work developing an improved exhaust and applying the aerodynamic lessons learned on our 992 GT3 project. We work with proven experts in the field of braking, Performance Friction, and fitted their 380mm Track Day Kit to the car, affording the opportunity to run 19" Forgeline wheels and our recent favorite tire, the Goodyear Supercar 3R. Our partner for suspension continues to be Motion Control, for their high product quality, excellent service and our relationship remains closer than ever. Their 3-way dampers with Dundon-spec valving, custom spring rates and top hats along with some improved kinematics help make the 718 GT4RS more planted and docile.
The components that took the longest are also the most transformative: our Valkyrie Aero package. Consisting of our burly carbon front splitter, dual carbon dive planes and Valkyrie swan neck wing, we see a massive bump in downforce on this platform that drastically needs it. This setup was tricky on the 718 GT4 RS, due in part to the unique "air curtain" on the leading edge of the front wheel arch. After a couple of test iterations, we landed on a carbon air curtain that pairs nicely with our dual dive planes and accommodates our full carbon splitter. This package yields 1600 lbs of downforce at 160mph, over 4x what the car makes stock!
Here's where the rubber meets the road. We've bolted all the parts to the our GT4RS (all 100% reversible, FYI). What difference do they make? This is where it is easy to get stuck in the weeds. We wanted to leave no doubt of the efficacy of this comprehensive upgrade kit. Porsche is famous for testing their parts at the Nürburgring and using their talented factory drivers to extract the most out of each car and setting a benchmark for the world to strive for. That is all well and good, but how much does that apply to you and your buddies?
Well, we got our pro driver, Ted, and a bunch of our buddies (with varying experience) together and visited our local track, The Ridge Motorsports Park when the car was totally stock, and when the upgrade kit was completed. We gave each of them a few laps in the car and measured their lap times, and got their anecdotal feedback. Here are the results:
Jamie, an experienced lapping driver with 20 years of track days:
Stock GT4RS lap: 1:47.18.
Dundon Upgrade Kit lap: 1:42.84
Total improvement: 4.34 seconds per lap!
Paul, Chief Instructor for PCA, many years of racing and track days:
Stock GT4RS lap: 1:48.79
Dundon Upgrade Kit: 1:43.74
Total improvement: 5.05 seconds per lap!!
Ted, 20 years of racing and coaching professionally:
If we can take drivers of vastly different experience and skill and give each of them approximately 5 seconds a lap, then the car's envelope has well and truly been broadened and softened. Our goal at Dundon is to make cars faster and more approachable for drivers of all skill levels. I think we can safely say that with the GT4RS, that mission has been accomplished!
Here's the link for the video recap, with a couple of additional friends giving their thoughts:
If you want your Porsche to be faster, sound better, and be more approachable on the road and track, visit www.dundonmotorsports.com.