---
Welcome back to Driver's Corner, where I share concise, actionable tips to improve your driving. My name is Ted Anthony, and before joining the team at Dundon, I spent 20 years driving, racing and coaching at race tracks. Take a read below and feel free to give me a shout with any questions or feedback!
As it turns out, having a successful outing on the track (whether it be a race or a HPDE day) is not solely dependent on the driving. Some of the most beneficial things you can do are off the track. The first thing that I've seen many students neglect is to Have a Plan. If you don't have goals and you're just out to enjoy driving, that fine. But if you want to improve as a driver or dial in your car's setup effectively, having a defined set of goals and checkpoints along the way is crucial.
I encourage all drivers to keep a notebook when they are at the track. This is an invaluable tool. Write down your goals for the day and take notes after each session to document how things went. You can keep track of many things, but here's a few that I've found to be helpful:
Your goals for the day (and any known steps you can take to achieve them

Line adjustments (i.e. "Turn in later at T6 to get a better run down the straight") 

Technique changes (i.e. "Trail the brakes a bit less to make the rear more stable in turn 4).

Documenting adjustments to your car's setup and how they felt (tire pressures, shock settings and aero adjustments are the top ones here)
It could be something as simple as a quick note to say "I forgot sunscreen, make sure to add that to my track bag for next time".
Speaking of track bags, I recently got caught out with too little gear at my last track day, and I could've had a more productive (and fun!) day had I been properly equipped. Having a dedicated Track Bag is a great way to ensure you're as prepared as possible. Here's a little peek into my updated Track Bag:
-Notepad & Pen
-GoPro Camera/Spare Batteries
-ApexPro Digital Driving Coach (this is a great tool for affordable data aquisition and in-car lap times)
   -Apex Pro suction cup mount and phone mount
-Hat, Sun Glasses, Sunscreen, rain jacket (you never know...)
-Non-perishable snack and water bottle
This list is not meant to be exhaustive, but it should get you pretty close and help you be more prepared for your days at the track. If you have any feedback, I'd love to hear it.
Until next time, Happy Driving!
-Ted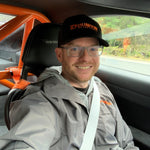 Ted Anthony
Sales & Marketing Manager
If you've called Dundon Motorsports in the last 6 months, I'm likely the person who answered the phone! Prior to joining the team at Dundon, I was a professional racing instructor and driver with 20 years of driving and 15 years of coaching experience at race tracks.